Intelligent Feeding and Farm Monitoring Solutions
FEEDPro
The industry's leading swine research solution. Automatically track and deliver unique feed rations to individual pens. The core of the FEEDPro system is an intelligent feed delivery unit. Precise amounts of feed are automatically loaded and can be delivered to any feeder in any quantity. Blend or dispense supplements with no cross contamination. Multiple diets can be managed with one system. FEEDPro is the most effective system for on-farm research and optimizing rate of gain and profitability with powerful software. Remote monitoring and automated data collection.
The FEEDLogic by ComDel MultiSence Sensor Gateway has 16 connections for digital, analog and pulse style sensors to measure important farm data. The platform wirelessly connects to the FEEDLogic FarmHub, and the sensor data is made available to FarmStreams online portal system. Temperature, humidity, water usage, propane usage, CO2, manure levels and many other sensor types are easily connected to the MultiSense.
Wireless Poultry Weight Management
FEEDLogic by ComDel Innovation provides the most comprehensive daily poultry weight gain data ever available to the industry. It optimizes diets based on daily gain data. Predict weights 3-4 days ahead of marketing manage poultry efficiently by watching intra-day growth trend. Data sent automatically to website. Receive email or text alerts when weights are out of expected range.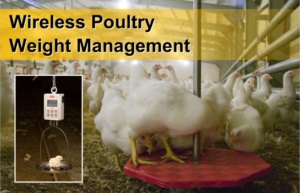 FarmHub Communications Gateway
Data collection and transmission to cloud-based systems is accomplished via the FEEDLogic by ComDel Innovation FarmHub Communications Gateway. Access to the internet is obtained via local ethernet connection or 4G modem allowing for connectivity nearly anywhere.